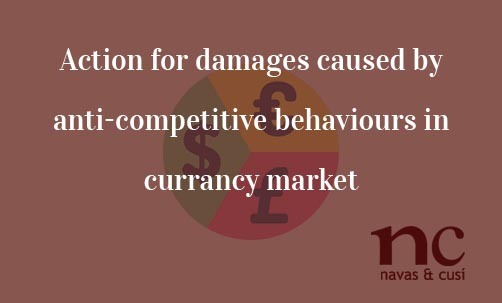 After years of investigation, on 16 May 2019, the European Commission has fined five banks (Barclays, RBS, Citigroup, JP Morgan and MUFG) EUR 1.07 billion for taking part in two cartels –Three Way Banana Split (between 18 December 2007 and 31 January 2013) and Essex Express (between 14 December 2009 and 31 July 2012)- in the spot foreign exchange market.
UBS, which also participated in these cartels, was acquitted for revealed its existence.
Fined banks' modus operandi
The Commission's investigation -which started in September 2013- has revealed that some individual traders engaged in spot trading of currencies – Euros, British Pound, Japanese Yen, Swiss Franc, US, Canadian New Zealand and Australian Dollars, and Danish, Swedish and Norwegian crowns-, acting on behalf of their own banks, exchanged sensitive information and business plans, such as customer orders, bi-ask spreads to specific transactions, the currency they needed to sell or buy to convert their portfolios into their bank's currency.
This exchange of information, which were coordinated in several chatrooms, enabled their participants to take decisions regarding the purchase or sale of the currencies they had in their portfolios and at the best time to do so, which is clearly contrary to the Treaty on the Functioning of the European Union and the EEA Agreement, which articles 101 and 53, respectively, prohibit cartels.
Position of the European Commissioner for Competition
Competition Commissioner, Margrethe Vestage, said: "Companies and people depend on banks to exchange money to carry out transactions in foreign countries. Foreign exchange spot trading activities are one of the largest markets in the world, worth billions of euros every day. Today we have fined Barclays, The Royal Bank of Scotland, Citigroup, JPMorgan and MUFG Bank and these cartel decisions send a clear message that the Commission will not tolerate collusive behaviour in any sector of the financial markets. The behaviour of these banks undermined the integrity of the sector at the expense of the European economy and consumers".
Action for damages
According to the case law of the Court and Council Regulation (EC) 1/2003, in cases before national courts, decisions of the European Commission constitute binding proof of the existence of a given behaviour and its illegality. Therefore, even if the Commission has fined the participants in the abovementioned cartels, any natural person or company that has been affected by this anti-competitive behaviour has the right to claim damages and to obtain full compensation for such damage before the courts of the Member States, in accordance with Directive 2014/104/EU of the European Parliament and of the Council of 26 November 2014 on certain rules governing actions for damages under national law for infringements of the competition law provisions of the Member States and of the European Union.