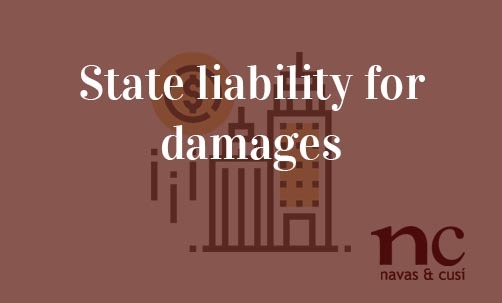 The Judgment of the Court of 19 November 1991. (case C-6/90 and 9/90 Andrea Francovich and Danila Bonifaci and others v Italian Republic) established the possibility for a consumer to claim the damages caused by the failure to implement a Directive in any Member State of the European Union.
Since the Francovich case, throughout the years, the legal framework has been consolidating with so many precedents what we called "state liability for damages".
The full effectiveness of Community rules would be impaired and the protection of the rights which they grant would be weakened if individuals were unable to obtain reparation when their rights are infringed by a breach of Community law for which a Member State can be held responsible.
Such a possibility of reparation by the Member State is particularly indispensable where the full effectiveness of Community rules is subject to prior action on the part of the State and where, consequently, in the absence of such action, individuals cannot enforce before the national courts the rights conferred upon them by Community law.
It follows that the principle whereby a State must be liable for loss and damage caused to individuals by breaches of Community law for which the State can be held responsible is inherent in the system of the Treaty.
A further basis for the obligation of Member States to make good such loss and damage is to be found Treaty of the European Union, under which they are required to take all appropriate measures, whether general or particular, to ensure the implementation of Community law, and consequently to nullify the unlawful consequences of a breach of Community law.
Legal conditions for the liability
In the case of a Member State which fails to fulfil its obligation to take all the measures necessary to achieve the result prescribed by a directive the full effectiveness of that rule of Community law requires that there should be a right to reparation where three conditions are met:
The result prescribed by the directive should entail the grant of rights to individuals;
it should be possible to identify the content of those rights on the basis of the provisions of the directive;
There should be a causal link between the breach of the State' s obligation and the loss and damage suffered by the injured parties.
In the absence of any Community legislation, it is in accordance with the rules of national law on liability that the State must make reparation for the consequences of the loss and damage caused. Nevertheless, the relevant substantive and procedural conditions laid down by the national law of the Member States must not be less favorable than those relating to similar domestic claims and must not be so framed as to make it virtually impossible or excessively difficult to obtain reparation.