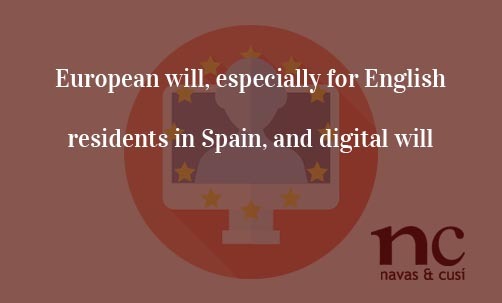 The advisability of drawing up a 'European will', in accordance with the Regulation (EU) No 650/2012 of the European Parliament and of the Council of 4 July 2012 on jurisdiction, applicable law, recognition and enforcement of judgments, acceptance and enforcement of authentic instruments in matters of succession and the creation of a European Certificate of Succession, it is very convenient when it is a foreigner from a European Union Member State who resides in Spain and has real estate or important investments in Spanish, since according to European Union law he can make a will in accordance with Spanish legislation and furthermore this will be effective in the whole European Union territory that it was at the time of granting the will.
The European Will for English Residents in Spain
In the case of the English, with the Brexit issue, it allows them to reach total certainty about the validity and effectiveness of the will, since it would be a valid will where Spanish law would be applied, as the law of habitual residence, in accordance with Article 21 in conjunction with Articles 20 and 36.2(a) of the Regulation, although there is nothing to prevent the choice, as the law applicable to the will, of the nationality of the testator (in the case of an Englishman, the law of the United Kingdom).
Inheritance documents in SMEs
According to European standards it is also possible to grant documents of succession of small and medium sized companies, such as "protocols of business succession" under Spanish and European law.
The regulation of the digital will is a reality
In Spain, with the new LOPD-GDD, the possibility of regulating a digital will has been recognized, and deciding on the future of videos, photos, web pages, personal page in social networks… so that the heirs can take care of either their conservation or their elimination, according to the will of the testator. To this we must add the possibility that the hologram technique was developed, as we have recently seen with the hologram, where image rights or intellectual property rights can be extended and exercised after the person's death, which can also form part of the content of the will.
In this regard, having a European will, with provisions on the succession of property, the establishment of foundations, trust establishments, rules on the succession of family businesses and also a digital will and the delimitation of image rights or intellectual property rights is something that is only within the reach of very professional and highly specialized firms.
If you want your heirs to be able to protect their privacy and image from the Navas & Cusí law firm, we recommend that you contact our specialist lawyers in European Union law who, together with our inheritance and succession department, will ensure your safety.